Skip to Content
Dr. Jonathan Johnson M.D., M.B.A, C.W.S.P Delivers Stellar Wound Care to You
Comprehensive Wound Care Services is proud of the high-quality service we deliver to nursing home patients throughout Washington, DC, Georgetown, and Foggy Bottom. Founded by our surgical director, Dr. Jonathan Johnson M.D., M.B.A, C.W.S.P, Comprehensive Wound Care Services strives to provide compassionate and highly-effective care to each of our clients. Dr. Johnson M.D., M.B.A, C.W.S.P brings a wealth of education, certifications, and board memberships to the table, each of which enables both he and Comprehensive Wound Care Services to bring relief to patients suffering from stubborn wounds that won't heal.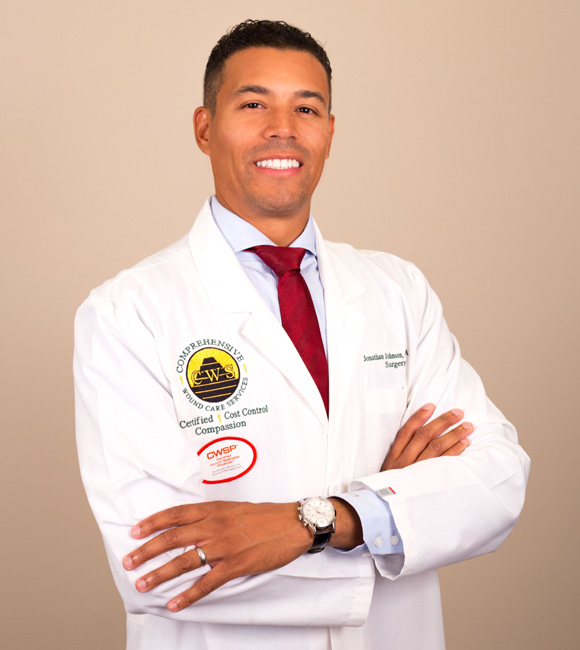 Dr. Johnson M.D., M.B.A, C.W.S.P Brings a Wealth of Experience to the Table
Dr. Johnson M.D., M.B.A, C.W.S.P is board certified by the American Board of Wound Management, as well as the American Academy of Aesthetic Medicine. As a Sylvester J. Carter Fellow in hand and plastic surgery, Dr. Johnson M.D., M.B.A, C.W.S.P trained at the prestigious Lincoln Medical and Mental Health Center. From there, he proceeded to collect extensive experience in wound care reconstruction and aesthetic procedures. His reputation for quality service and compassionate care has earned him the privilege of speaking professionally on wound care and aesthetic medicine education at numerous national conferences.
Giving Back to the Community is Important to Dr. Johnson M.D., M.B.A, C.W.S.P
In addition to his education and experience in the medical field, Dr. Johnson M.D., M.B.A, C.W.S.P has a business administration master's degree from the Carey Business School at Johns Hopkins University, where he concentrated on healthcare finance. His membership in the J. Robert Gladden Surgery Society and the Maryland Society of Physician Entrepreneurs has exposed him to a wealth of ideas from his peers. In his spare time, Dr. Johnson M.D., M.B.A, C.W.S.P volunteers on the board of directors at the Capital Youth Empowerment Program, a non-profit that addresses inner-city youth development and education.
Contact Our Tele-Wound Care Professionals